When I first started living my life for Christ, I drew a lot of lines in the sand. In many ways, my world became black and white. Yes to this and no to that. This is good and that is bad.
I remember feeling like if I quit doing some things, and replaced them with things that were more fruitful – that I would be well on my way to living the ultimate Christian lifestyle.
In my mind it was all so simple. Was I attending church and Bible study enough? What company was I keeping? Was I drinking? If so, how much? What was I reading, watching, listening to? ?Was I putting in enough quiet time?
My faith was a lot about my actions and constantly teetered on the verge of legalism.
In some ways, I feel like this was necessary at that time in my life. I was in my early 20s, and let's just say prior to living for the Lord – I was a bit of a wild child. In order for me to change some undesirable habits, my environment had to change. Consequently, I became immersed in the church culture.
My husband and I found a church we loved, filled with like-minded individuals who were living their lives for Christ. We began attending a house church with other people our age and quickly developed some of our closest, deepest friendships that are still some of our closest friends to this day. We began to experience relationships in ways we never had before.
I vividly remember going to our first house church cookout. As we parked the car next to the curb, there was a moment before opening our doors when my husband (who was my boyfriend at the time) and I looked at each other and said, "Do you really think they won't have alcohol here? How do we get through a cookout without alcohol?"
It seemed so strange that such a cookout would even exist. Cookouts and beer went together like peanut butter and jelly. I don't care how long these people have been going to church. They have to know this, right? It was all so foreign to us.
That night we learned a few new things – like going to a cookout without alcohol is actually a ton of fun. For those of you who have never been to one – it's true. I'm not lying. We had a blast. That evening is forever etched in my mind. I can clearly remember conversations I had with different people that night. I even remember watching as Pat lifted up his sweatshirt to reveal his multi-colored Grateful Dead t-shirt underneath after learning that our host was also a huge Dead fan.
In that moment, I realized it was possible for our past and our present to intertwine in a way that may actually be okay. Maybe all of our past wasn't so bad?
Fast forward to present day and I can say with confidence that it wasn't all so bad. Over the years, I have learned that God can take some of the most difficult, challenging times in our lives and use them for good – even our poor choices. He makes beauty from ashes time and time again.
Since my early 20s, my faith has become much less legalistic. I have learned, and truly experienced, how wide and high and deep is the love of God. I have felt His grace cover me time and time again and truly believe He loves me. And He always has. Even when I was far away from Him.
I began to really embrace this truth when my children were young. Due to a lot of circumstances outside of my control, we weren't able to attend church as often as we could when it was just the two of us. Attending Bible study regularly and prayer nights at the church became more challenging. At first, this was really hard for me. Would God love me as much if I wasn't showing up regularly? My legalistic self was now face-to-face with the knowledge that I couldn't perform how I once had. What did this mean for my faith? Would people think I didn't love Jesus anymore if I wasn't at church on Sunday?
Turns out, it doesn't matter what people think of me. What matters is pleasing God – not man. And God knew my heart and my circumstances. I had to learn to accept the love of Christ as it was – a free gift filled with grace and love. It wasn't about me and it wasn't about what I was doing. It was about Him. There was nothing I could do to earn His love. And nothing I could do to make it go away.
He is the perfect Father.
The more I began to understand and accept that, the more deeply I experienced His love – and the more freely I was able to give it to others. No strings attached.
To others looking at my life now, there may be moments when I seem like a poor example of a Christian. I don't attend church every Sunday. I want to, and try to, but sometimes life's unexpected twists and turns get in the way. I drink alcohol on occasion. I have my nose pierced and am highly contemplating getting a tattoo – or ten. I watch the occasional R-rated movie and very possibly watch Netflix shows that can be considered crass and inappropriate. Some of the music I listen to has bad words and, if the kids aren't around, there's a good chance I may be found singing these songs – loudly. Like The Birthday Song by 2Chainz – the minute I'm by myself and that song shuffles through my playlist – it's game on.
And that's okay. I'm a work in progress. You are a work in progress. Perfection is unattainable. I will never be perfect and neither will you.
In the past couple of weeks, I have witnessed my past and present come together in a way that I can only describe as beautiful. When my husband and I were younger, we attended many a jam band concert – namely Phish. After becoming Christians, we took a long break from that scene.
Over the years, as we have loosened the reigns on our list of dos and don'ts, we have started to attend a variety of concerts again (and living in Nashville, there is definitely plenty of live music to choose from.) In the past few weeks, we attended both a Phish show and a Bob Weir concert.
During the Phish show, as the band was playing and the people around me were swaying to the sounds of the music, I looked up at the stage framed by the city we now call home and at the stars twinkling in the sky – and strongly felt the presence of God. As my body moved and my gaze fixed upward, I began to pray. I prayed for those at the show with me. I prayed for God's angels to come to that place. I prayed for His love and mercy to cover us. And a couple of weeks later, at the Bob Weir show, I had a similar experience (only indoors.)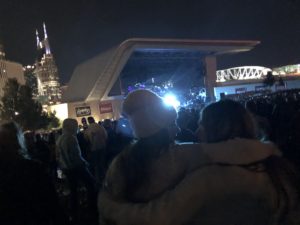 I am learning something that seems so basic, but I had somehow missed. God is everywhere. You don't need to be at a Christian concert to worship. You can worship Him wherever you are. I think my 20-something self would have guffawed at the thought of worshipping God at a Phish show. You go to church and Christian concerts to worship God. Not Phish shows.
The week after my worshipping God at the Phish show moment, Chris Tomlin lead worship at our church service. As my hands were lifted to the air and my heart was once again worshipping God I was reminded of the unexpected moment I had earlier in the week. The moment when God met me at the Phish show. The moment when my past and present collided in a way that felt like a true gift of redemption.
Our pastor then got up and spoke about the seven Hebrew words for praise. He talked about a word in the Hebrew language that meant praising God through music, Zamar. He talked about joyfully making music with song and instrument. As he spoke of the seven words for praise, I was reminded we should praise Him in all things. At all times. In song. In dance. In gratitude. In prayer. In worship. In silence. Loudly with hands lifted high and quietly while on our knees. At concerts and coffee shops. On walks in nature and when driving the car.
Praise Him for where we've been. Praise Him for where we are going. Praise Him for this very moment.
Praise Him for the journey.
Lines that are drawn in sand aren't meant to last for long. As the tides rise and the waves crash in, the lines vanish with the water returning to it's source. I am grateful that so many of my lines have been erased. I am grateful that God has taken my heart that at one time may have been more bent toward judgment then I would ever care to admit – and turned it to a heart that clearly sees my imperfection and my need for a Savior. He has forgiven me for much and He continues to do so. He loves me more than I will ever fully be able to fathom. I want my life to reflect this love He has poured so graciously and freely on to me. I want my life to be a vessel. More of Him. Less of me. More of His love. More of His light.
Praise Him for where we've been. Praise Him for where we are going. Praise Him for this very moment.
Praise Him for the journey.
In all things. At all times. Whether at church on a Sunday morning. Whether seeing Phish on a Wednesday or Bob Weir on a Monday night. Whether at a cookout with alcohol, or one without. Wherever you may be in your journey.
Praise Him.
For it is by grace you have been saved, through faith?and this is not from yourselves, it is the gift of God?not by works, so that no one can boast.For we are God?s handiwork, created in Christ Jesus to do good works, which God prepared in advance for us to do. Ephesians 2: 8-10
I love you, Lord, my strength.?
The Lord is my rock, my fortress and my deliverer; my?
God is my rock, in whom I take refuge, my shield and the horn of my salvation, my?
stronghold.?
I called to the Lord, who is worthy of praise, and I have been saved from my enemies. Psalm 18:1-3
Related